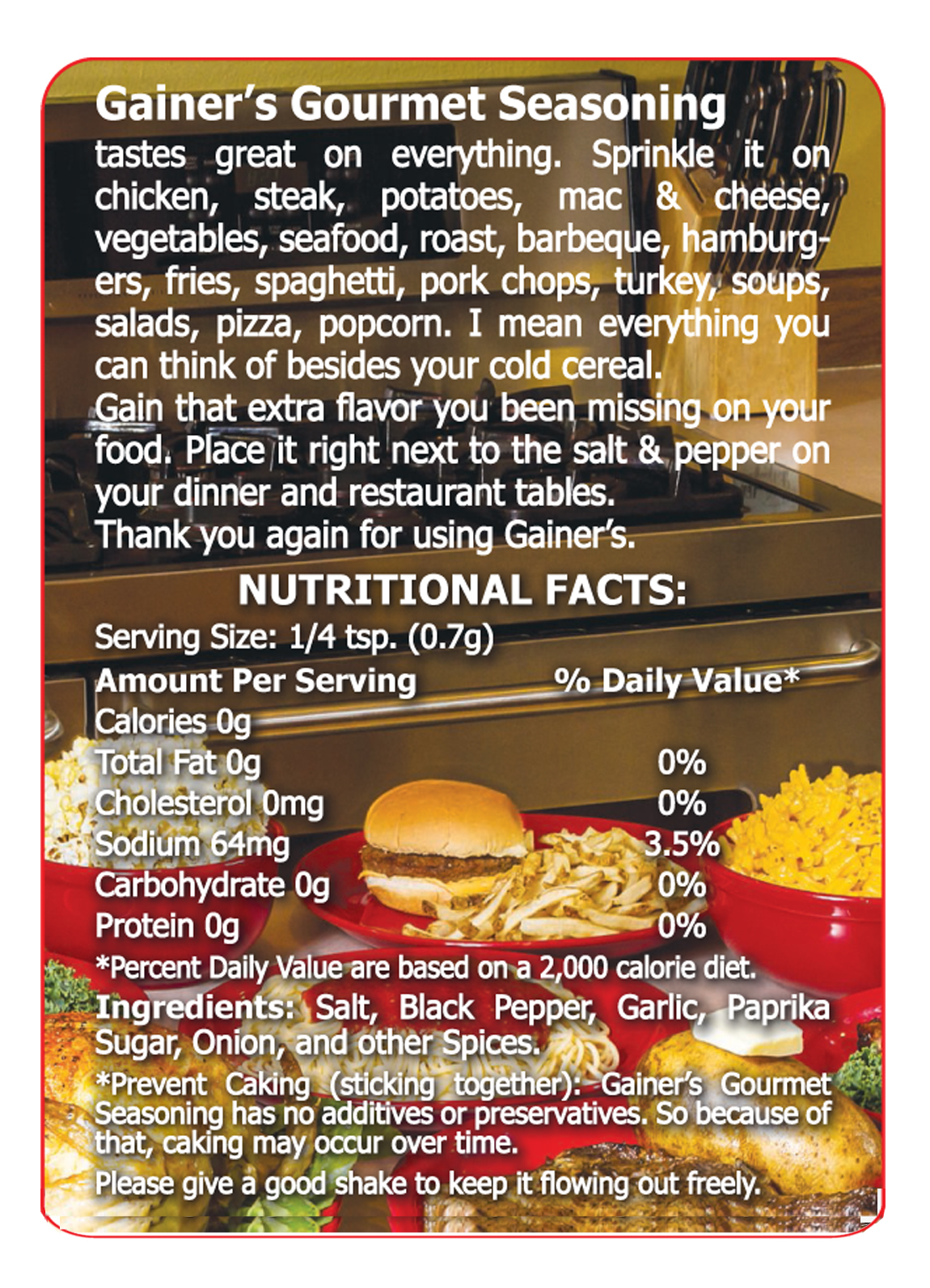 Gainer's Gourmet Seasoning!
Straight from Pacific Northwest comes an all-purpose seasoning that makes good food taste even better! Improve flavor by sprinkling on Pork Chops, Steaks, Chicken, Fish, Other Meats, Vegetables, Salads, and Soups. You can use Gainer's Gourmet Seasoning as a base for other spices. If you want to make Gainer's spicy, you can add cayenne or red chilli flakes. If you want to make a BBQ rub, add brown sugar to it and you have a rub. It is great for Smoking your meats!!! If you want a garlic flair, add more garlic. Make Gainer's into your own. This is what makes us so special. Gainer's Gourmet Seasoning is great on it's own or it's great when you add your personal touch. It's great on everything... Gainer's... Ask for it!
Contains no MSG.
No additives or preservatives.
Low Sodium
>

New Line Coming in 2018:

Hot, Garlic, Barbecue Rub, Spicy Barbecue Rub, Caribbean Jerk Island, Cajun, Lemon Pepper, Taco Seasoning Mix, Brown Gravy Mix, and Chili Mix.... Gainer's Gourmet Seasoning customers been asking for these flavors!!!!.... Now they are finally coming. Set to come out for the 2018 Farmers Market Season. Keep checking back on our web page for the new 2018 Farmers Market Schedule. The Gainer's Gourmet Seasoning family thanks you for all your support. We wouldn't be here with out you!!!! Thank you again GGS Customers!!!!!!